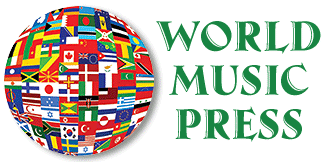 World Music Press was founded on a shoestring budget in 1985 by multicultural music specialist Judith Cook Tucker, who strongly believes in furthering intercultural understanding through music. Publishing world music materials for classroom and community use is not only a business, but a passion and a mission, as well.
Since 1985 World Music Press has produced several book/recording sets and choral octavos that we hope will help you in your efforts to learn about many of the cultures represented in American society. Every publication is prepared with the involvement of a culture bearer. All of our publications are authentic, in-depth and accessible.
World Music Press strives to meet the needs of music educators, ESL, social studies, general classroom and physical education teachers, choral directors, ethnomusicologists, community outreach staff, librarians, adoptive parents and music lovers who seek authentic ethnic materials that display the unique vitality and integrity that only an insider's view can give.
Contact Information
World Music Press
c/o Plank Rd. Publishing
P.O. Box 26627
Wauwatosa WI 53226
Sales rep: Lynn Crowell
Phone: (262) 790-5210
Fax: (414) 771-7672
Lynn@MusicK8.com
To request licensing rights for World Music Press music, use our Online Permissions Form on MusicK8.com.